Fizzypeaches is an award winning parenting and lifestyle blog. Established in 2012, Fizzy Peaches has since developed a loyal readership and a reputation for being consistent, friendly and informative within the blogging community.
In July 2016, Fizzy Peaches Blog was the winner of the 'Blogger of the Year' award at the 30 Plus Blog Awards.
Ways you can work with Fizzy Peaches Blog:
Fizzy Peaches blog has a large and regular readership, so collaborating with Fizzy Peaches Blog is a great way to gain exposure for you as a brand and help you to reach the right target audience for your product.
We offer:
Honest reviews of products and services
Giveaways
Representation at blog events
Sponsored content – both written and video
Social Media Promotion
Freelance Writing
Advertising
Product/Brand ambassadorships
Current Blog Stats & Following:
Domain Authority – 34 / Page Authority – 44
Social Following:
Twitter: 6,543
Instagram: 3,717
Pinterest: 12,469
Bloglovin: 2,712
Google +: 747
Facebook: 1,670
Youtube: 98
Total: 27,956
Last updated: 27th April 2017
Please email Lyndsay (hello@fizzypeaches.com) for our Media Kit and to discuss a collaboration further. 
Fizzy Peaches Features:
Winner of 'Blogger of the Year' category – 30 Plus Blog Awards – July 2016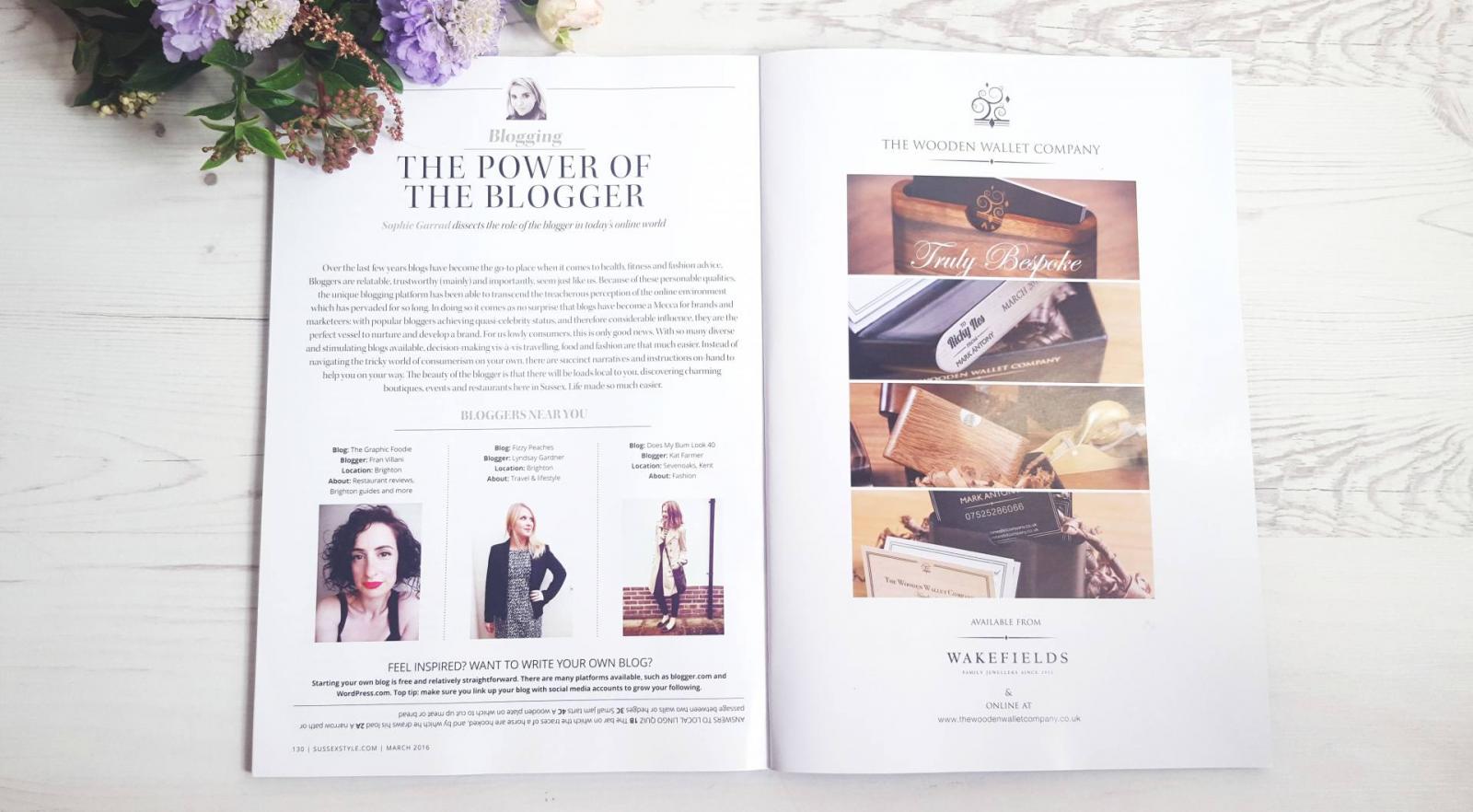 Sussex Style Magazine – March 2016
Title Magazine Brighton – May 2016
Get in touch:
hello [at] fizzypeaches [dot] com
 | Twitter | Bloglovin | Facebook | Pinterest | Google + 
---
Disclaimer: 
This policy is valid as of March 2016
This blog is a personal blog written and edited by Lyndsay Gardner. This blog accepts forms of paid advertising, sponsorship, paid insertions and other forms of compensation in return for blog posts and/or reviews and social media shares. I believe in honesty of relationship, opinion and identity, therefore compensation received will never influence the advertising content, topics or posts made in this blog. All words and opinions are 100% genuine and my own. Any paid for or sponsored content, advertising or guest posts will be clearly identified as paid, collaborative, sponsored 0r marked with an asterisk (*). All products sent are for consideration only – I will only feature products I truly would use in my day to day life and wish to share opinion on. 
The owner of this blog is not compensated to provide opinion on products, services, websites and various other topics. The views and opinions expressed on this blog are purely the blog owners. Any product claim, statistic, quote or other representation about a product or service should be verified with the manufacturer or provider.
This blog does not contain any content which might present a conflict of interest.
Copyright: 
© Lyndsay Gardner and FizzyPeaches Blog, 2012-2016. Unauthorised use and/or duplication of this material without express and written permission from this site's author and/or owner is strictly prohibited. Excerpts and links may be used, provided that full and clear credit is given to Lyndsay Gardner and FizzyPeaches Blog with appropriate and specific direction to the original content.